New Drug Approvals
MORINIDAZOLE
1- [3- (4-morpholinyl) -2-hydroxypropyl] -2-methyl-5- nitro -1H- imidazole
CAS 92478-27-8
Jiangsu Hansoh Pharmaceutical Co., Ltd.
Morinidazole was approved by China Food and Drug Administration (CFDA) on February 24, 2014. It was developed and marketed as a step Lingda ® by Hansoh Pharmaceutical.
Morinidazole is a nitroimidazoles antibiotic indicated for the treatment of bacterial infections including appendicitis and pelvic inflammatory disease (PID) caused by anaerobic bacteria.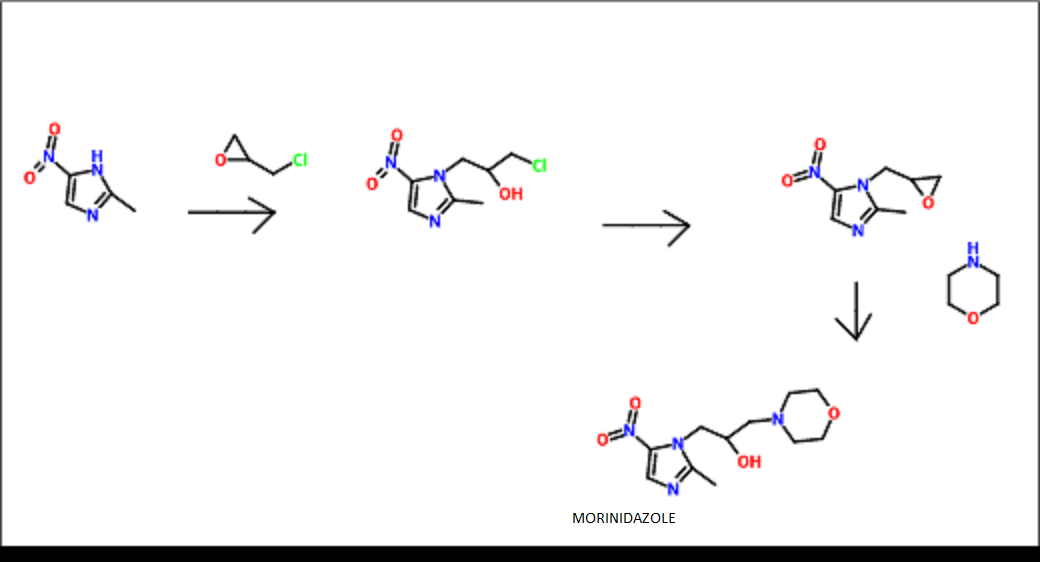 PATENT
WO2006058457A1.
http://www.google.com/patents/WO2006058457A1?cl=en
……………………….
PATENT
CN1981764A.
https://www.google.com/patents/CN1981764A?cl=en
1- (2,3-epoxypropoxy yl) -2-methyl-5-nitro-imidazole (10g), morpholino (10g), 100ml of acetonitrile under reflux for 2 hours, vacuum recovery of acetonitrile, water was added 100ml, heating to the whole solution, filtered hot, let cool, filtering, washing and drying to obtain an off-white solid (11g).
Proton nuclear magnetic resonance data: 1HNMR (CD3Cl) δ2.39 ~ 2.73 (6H, m) δ2.61 (3H, s) δ3.71 ~ 3.81 (4H, m) δ4.10 ~ 4.17 (2H, m) δ4 .63 ~ 4.66 (1H, m) δ8.00 (1H, s)
CN 102199147
http://www.google.com/patents/CN102199147A?cl=en
CN 1605586
View original post 170 more words