New Drug Approvals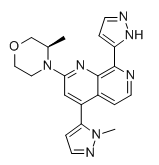 BAY 1895344
1876467-74-1 (free base)
(R)-3-methyl-4-(4-(1-methyl-1H-pyrazol-5-yl)-8-(1H-pyrazol-3-yl)-1,7-naphthyridin-2-yl)morpholine, monohydrochloride
BAY-1895344
| | |
| --- | --- |
| Molecular Weight | |
| Formula | |
BAY-1895344 (hydrochloride)
1876467-74-1
1876467-74-1(free base)
s8666, CCG-268786, CS-7574, HY-101566A
BAY-1895344 hydrochloride is a potent, orally available and selective ATR inhibitor, with IC50 of 7 nM. Anti-tumor activity.
NMR https://file.selleckchem.com/downloads/nmr/S866603-BAY-1895344-hnmr-selleck.pdf
Biological Activity
In vitro, BAY 1895344 was shown to be a very potent and highly selective ATR inhibitor (IC50 = 7 nM), which potently inhibits proliferation of a broad spectrum of human tumor cell lines (median IC50 = 78 nM). In cellular mechanistic assays BAY 1895344 potently inhibited hydroxyurea-induced H2AX phosphorylation (IC50 = 36 nM). Moreover, BAY 1895344 revealed significantly improved aqueous solubility, bioavailability across species and no activity in the hERG patch-clamp assay. BAY 1895344 also demonstrated very promising efficacy in monotherapy in DNA damage deficient tumor models as well as combination treatment with DNA damage inducing therapies.
Conversion of different model animals based…
View original post 589 more words